How to get symmetrical, quick and perfect eyebrows every time.
We've got the answer for you! Achieving the perfect eyebrow shape can be a challenging task, but with the help of an eyebrow stencil, it becomes an effortless endeavor. An eyebrow stencil is a must-have tool for anyone seeking flawless brows that frame the face beautifully. In this article, we will explore why an eyebrow stencil is the secret to achieving consistent, time-efficient, and cost-effective perfect brows every time, regardless of your natural brow shape. Discover how this simple tool can add dimension, expression, and a touch of elegance to your overall look, empowering you to rock flawless brows that perfectly complement your unique style and facial features. Get ready to unlock the secrets of creating your own eyebrow stencil for those picture-perfect brows you've always dreamed of.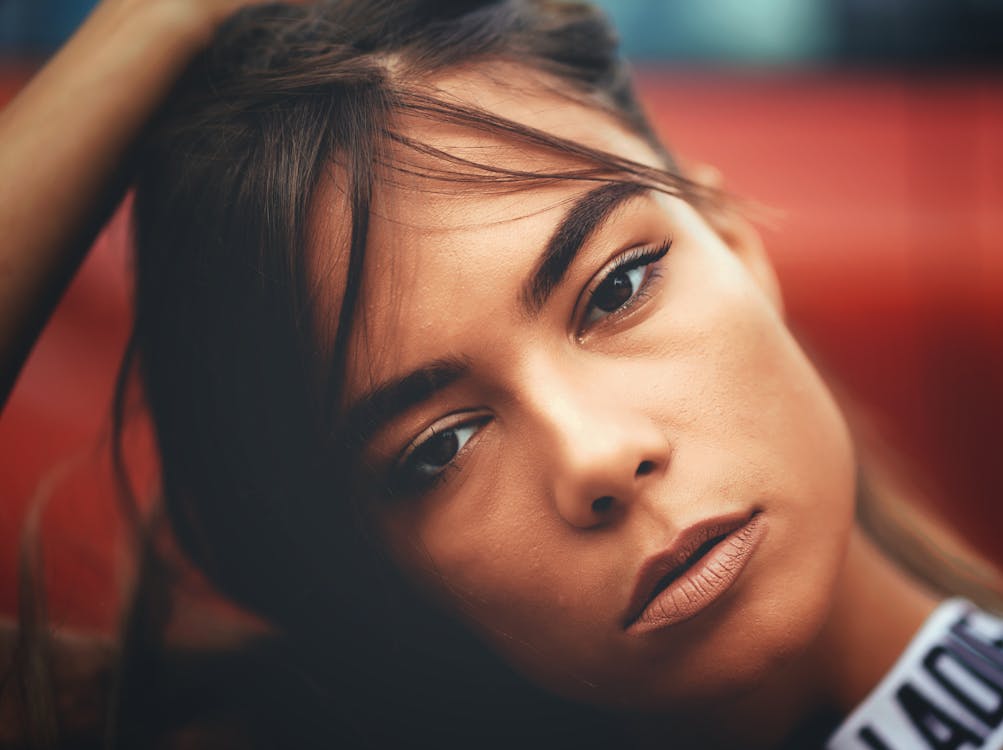 Benefits of making your own eyebrow stencil
If you're looking for a way to achieve a perfectly balanced brow which suits your face shape then you should try making your own stencil.
Not only is it easy to do, but it's also much more affordable than buying pre-made shaped stencils.
Plus, by making your own stencil, you can tailor it to your specific face shape for better results and help you achieve brow perfection.
Before You Begin
There are certain items you need in order to make an eyebrow stencil on your own.
Transparency Film: Get the write-on version of these clear plastic sheets at your local office supply store or online.
Permanent Marker: I used a Sharpie.
Scissors: For cutting the transparency film.
X-acto Knife or Box Cutter (optional but highly recommended): For cutting out the eyebrow shape.
Clear Tape (optional)
If you're looking for a way to achieve perfectly shaped eyebrows, then you need an eyebrow stencil! With a stencil, you can easily fill in your brows with precision. Plus, it's much cheaper than going to a salon. So if you're ready to achieve perfect brows at home, read on for everything you need to know about how to make an eyebrow stencil.
Getting Your Stencil Ready
One sheet of transparency film is usually 8.5 by 11 inches, which is way too big for a stencil. Instead, cut out a rectangle big enough for an eyebrow shape while keeping the edges wide to avoid ripping.
I found mine worked best at 2 by 3 inches.
Cut out this shape from the transparency film with scissors.
Create an Eyebrow Shape
The best thing about making your own stencil is that it will be the perfect shape for your eyebrows.
In a mirror, hold up the transparency rectangle so your eyebrow is in the middle. With the permanent marker, draw on the film over your eyebrow to create your desired shape.
If your eyebrows are lighter in certain spots, be sure to color over it with the marker. You should be creating the shape you want your eyebrows to be, and not what they truly are.
When you're done, your shape should look something like above.
Before moving on, flip the stencil around and lay it over your other eyebrow. Does it match up there, too? Using one stencil for both eyebrows will ensure a uniform look.
Next, use a black Sharpie to trace your design onto the transparency. Make sure that the lines are thick and dark so that they will be visible when you transfer the stencil onto your skin.
Cut Out the Stencil
Next you'll need to cut out the shape you created with your permanent marker.
This step is easiest with an X-acto knife. Just go along the border of your drawing to cut out the shape.
Now you're ready to cut out your stencil!
Start by cutting along the outer lines of your design.
Be very careful not to cut into the smaller details.
You can use a pair of tweezers to help you with this step.
Once you've cut out the outer shape, start working on the smaller details.
Again, be very careful not to cut yourself or rip the stencil.
If you're like me, and only have scissors, you can still cut out the shape. Cut into the transparency from one side. When you reach the design, cut out the eyebrow shape. When done, adhere the preliminary cut with clear adhesive tape.
Now that your stencil is ready, it's time to move on to the next step: applying the stencil to your skin.
Using the Eyebrow Stencil
Now your eyebrow stencil can be used to make your eyebrows fuller and with a better shape.
If you have a steady hand, hold the stencil over your eyebrow and dab eyebrow powder over the opening. You can also use a brow pencil with the stencil as well.
If your hands are unsteady, tape the stencil to your face to keep it in place.
Keep the remaining transparency film just in case you ever want to make a new stencil. Now that you have your stencil, it's time to use it!
Start by holding the stencil up to your eyebrow. Make sure that it's in the correct position before moving on.
If everything looks good, take a black brow pencil and fill in the shape.
I like to start from the inside of the brow and work my way out.
You can also use an eyebrow powder with a brush to fill in the stencil.
Once you're done, remove the stencil and take a step back to see your work.
If everything looks good, move on to the other eyebrow. If not, make any necessary adjustments and try again.
Now that you're done, you should have two perfectly shaped eyebrows!
Reusing your stencil
If you want to use your stencil again, simply wash it off with soap and water. Allow it to dry completely before storing it away.
Premade vs DIY brow stencils
When it comes to choosing between premade and DIY brow stencils, both options have their merits. One of the main issues with premade brow stencils is their lack of customization to cater to wider audiences. Often, they follow a "one size fits all" approach, which may not suit everyone's unique facial features and desired brow shape. It's important to note that your eyebrow shape can dramatically change your face, so finding the right shape is crucial. DIY eyebrow stencils, on the other hand, allow more customisability but may require multiple attempts to achieve the desired precision. However, if you opt for premade brow stencils, I recommend choosing ones that include a range of different sizes and shapes. These versatile options allow you to try on various eyebrow sizes and shapes, even ones you've never considered before, ultimately helping you discover what you truly like. Ultimately, it may be beneficial to experiment with both DIY and premade eyebrow stencils to see which option makes you feel and look your best, while being time-effective. You can even get the premade brow stencils and make adjustments to it as you like. The choice is yours, and what matters most is finding the approach that empowers you to achieve the perfect brow shape and enhances your overall appearance.
FAQS
1. What are brow stencils?
Brow stencils are templates that you can use to help shape your brows. They come in a variety of shapes and sizes, so you can find the perfect one for your face.
2. How do I use brow stencils?
To use brow stencils, simply place them on your brows and fill in the brow hair with makeup. You can use brow powder, pencil, or even shadow to achieve the look you desire.
3. What are the benefits of using brow stencils?
Brow stencils help take the guesswork out of shaping your brows. They also ensure that both brows are symmetrical and evenly shaped.
4. Are there any drawbacks to using brow stencils?
The main drawback of brow stencils is that they can be tricky to use. It takes a little practice to get the hang of it, but once you do, you'll be able to achieve perfect brows every time!
5. Do you have any tips for using brow stencils?
Here are a few tips for using brow stencils:
– Start by finding the right brow stencil for your face shape. There are many different shapes and sizes available, so take some time to find the perfect one.
– Place the brow stencil on your brow and fill in with makeup. Use a light hand at first, as you can always add more if needed.
– Remove the brow stencil and check your work. Make any necessary adjustments and fill in any sparse areas.
– Once you're happy with your brows, set them with brow gel or mascara to keep them in place all day long.
6. How many different brow stencil shapes are available?
Some of the most popular brow stencil shapes include:
– Arched
– Straight
– Tapered
– V-shaped
There are a variety of brow stencil shapes available on the market, so you're sure to find the perfect one for your face.
7. What is the best way to remove brow stencils?
To remove brow stencils, simply use a makeup remover or cleanser. gently wipe it over the brow area until the stencil is removed.
With these tips, you'll be able to achieve perfect brows using brow stencils in no time!
Now that you know how to make an eyebrow stencil, you can create the perfect brows for your face. With a little practice, you'll be a pro in no time!
Conclusion
In conclusion, while premade brow-shaped stencils offer convenience, they often lack the customization and precision necessary for achieving flawless brows. By understanding the limitations of these stencils, we can explore alternative methods that allow for greater personalization and control in shaping our brows. Whether through freehand techniques, using DIY stencils, or seeking professional guidance, embracing flexibility and customization will empower us to create stunning, symmetrical brows that enhance our unique facial features. Say goodbye to the limitations of premade stencils and unlock the potential for truly perfect brows that showcase our individual style and beauty. If you're looking for more permanent solution, then eyebrow tint, or microblading is the solution for you.